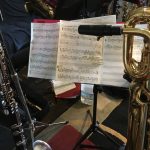 This week getting ready to do a rare Sextet gig at the Potato Sun, Aug 20th. Line up is:
Brad Rabuchin-guitar & Elec Sitar
Ian Roller-Tenor, Sop, flute
Jesse McGinty-Alto, Sop, Tenor
Alex Budman-bass Clar Bari
Steve Billman-bass
Chris Blondal-drums
The idea is basically Guitar trio verses Wind trio with a lot of interaction and blurred roles. It's fun to try my hand at expanding the arrangements for this larger ensemble.
I used to do this line up in the 90s but have only sporadically since. On the CD "When Smart Dogs Go Bad" there are 3 tunes that feature this instrumentation.Also excited to be working on doing a few gigs and clinics in the Tokyo area in Oct. Looking forward to returning to Japan for the first time since I was there with Ray several times in the early 2000s.
Here's a link to one of the sextet tracks form Smart Dogs: https://www.youtube.com/watch?v=t8xjzMzCN3U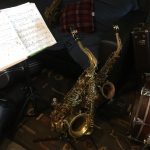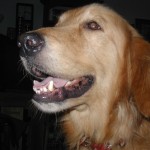 Over a Long professional career Brad has developed the ability to function at a high level in a variety of styles, equally comfortable whether it's Jazz, Blues, Rock, Fusion or world music Brad spent 5 years and toured 6 continents as the last guitarist with Ray Charles . Some of the Brads' other credits include: Bonnie Rait, Roy Hardgrove, Louie Bellson, Pat Martino, Steve Turre, Al Kooper, Steve Wonder, Buddy Miles, Lean-to, Diane Shurr, David "Fathead" Newman, Willie Nelson & Tom Jones. Brad Rabuchin now splits time between leading his own band, a successful career as a sideman and teaching at LAMA & MI.